Mothers Day Messages for Stepmother: A mother is a mother whether she is your real mother or the stepmother because the essence of motherhood is the same in every woman. A stepmother deserves equal love, respect, care, and affection from you as much as your father does. What difference is between your real mother and the stepmother if she nurtures and protects you the same way, loves you selflessly like your mother? Mothers day 2022 is on the cusp of arrival and you must celebrate the mother-son bond you share with your stepmother by pouring love, affection, and sweet mothers day wishes for stepmother on her. Below is the most beautiful compilation of happy mothers day stepmom wishes and quotes that perfectly express your concern and love towards your stepmother.
Happy Mothers Day Wishes for Stepmother
To the whole world, you are a stepmother, for me, you are more than God. Thank you so much stepmom for giving amazing nurturing and love to me. I owe you so much and one day I will make you super proud. Happy mothers day stepmom!
From the depth of my heart, I want to thank you for embracing me like your own kid, taking care of me more than anyone else, and molding me into a moralistic and affectionate individual. You are such a beautiful and courageous woman. Wishing you a happy mothers day, my lovely stepmother!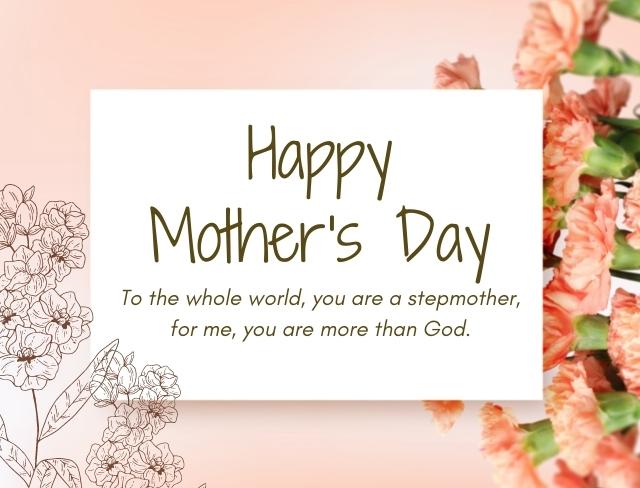 For a woman to become a mother, it is not necessary that she must give birth to a child. Any woman who takes care of other woman's children is also a mother with much greater respect. Hey stepmom, I am sending you heaps of love, hugs, and kisses for being so generous to me. Happy mothers day!
Also see: Happy Mothers Day Paragraphs
So what if you have not given birth to me, I respect you and worship you more than God. It's because of your my life is so happening and sorted otherwise I would be wandering in orphanages. Sending you blessings and best to my sweetest stepmother on mother's day!
If all the mothers of the world become like you, I bet no kid would feel the dearth of compassion, love, and fine upbringing. Every kid in this world will turn out to be a pragmatic and loving individual. Happy mother's day to the best stepmother ever!
Also see: Funny Mothers Day Puns
Before my father, I was the one who accepted you wholeheartedly and gave you the status of my mother. You are an indispensable party of my life and I thank you for raising me in a fine manner. Happy mother's day stepmom!
Though we haven't spent much time together, I have always given you the respect and love you deserve from a child. Thank you for taking care of me and my father amazingly and selflessly. Whenever you need me, I will always be there for you. Happy mothers day stepmother!
Also see: Funny Mothers Day Jokes
It doesn't matter whether you are my real, surrogate, or stepmother, you have always taken care of me like your own child and I couldn't thank you more for your love and sacrifices. In my eyes, you are and will always be my loving mother. Sending you heaps of mothers day wishes!
Hey stepmother, I have never expressed my love and affection to you but on the auspicious occasion of mother's day, I want to tell you that you are the most selfless and compassionate woman I have ever seen. Wishing happy mothers day to my lovely stepmom!
Also see: Funny Mothers Day Captions
I was on the verge of breaking down and then you came and gave me the much-needed support and solace. You are my savior, protector, and the biggest motivation. Thank you for everything and happy mothers day stepmom!
I have never considered you a stepmom and you are not. After my mother died, you came like a miracle to me. You have loved me unconditionally and understood me so well that I have for some moments forgotten my real mother. You are always my real mom. Wishing happy mother's day to you!
Also see: Heart Touching Happy Mothers Day Quotes
When father remarried I thought I would not be able to accept you as my mom. Yet being my stepmom you have given all that I want and perhaps more than anything. I can proudly say you are not my stepmom while real. Wishing happy mother day to you!
Being a mother means you are always there for your child; and you are always there for me as my mother. Wishing happiest mother's day to you!
Also see: Thankful Mothers Day Messages
You never did a child of yours while you accepted me as your first child. Being a stepmom and accepting you was not easy for me. Bu with your love and kindness it became. From the bottom of my heart I say I am lucky to have you as my mom. Wishing happiest mother's day to you!
Being without a mother life is not that easy. That motherly emotional support you always miss. You my stepmom has given me that motherly emotional support and I must say it was not just motherly while you became my mother. It is all because of you I stand today tall. Happy mother's day to you!
Also see: Happy Mothers Day Prayers Messages
Between me and your kids you have never let me feel that I am your step son. While you have given me so much love than you real kids. I don't know in what words I should thank you but from the truest of my heart I wish you happy mother's day. You are not my stepmom while my guardian angel.
After my mother died I thought my life had ended but you came like a kindest nymph in my life and has filled my life with immeasurable love of a mother. You raised me like your own kid. You became inseparable part of my life. Wishing happy birthday to mom! Our relationship is real, not step.
Also see: Mothers Day Messages to Friends & Family
It is not always true that the mother who gives birth can only be a real mother. While being mother means you are there for your child unconditionally and selflessly. That is what being a mother means. That's why you are my mother, not stepmother. Wishing happy mother's day to my great mother!
Wishing happy mother's day to my sweetest mother on the earth! I respect and honor you. And I do want to say I really love you not as my stepmom while as my real mom.
A mother is always a mother for her child. These differences step and real create distance in relationship. And this distance you have erased mom in our relationship. You are my adorable and lovely mom, not step. Wishing happy mother's day to my lovely mom!
You May Also Like: