Mothers Day Paragraphs: Years come and years go but the craze of celebrating mother's day never dwindles a bit. The stature of a mother is no less than the god that's why mothers day is celebrated with the same zeal as Christmas, new year, or thanksgiving. We know quite clearly that it is more than difficult to comprehend the greatness of mothers in a few words but we are living in the age of social media, and we all want to express our emotions more and more. On mother's day, tell your mother how madly you love and care about her in the most ingenious way by putting happy mothers day paragraphs from daughter and son on all the social medial platforms from the collection of mothers day paragraphs stated below.
Happy Mothers Day Paragraphs from Daughter & Son
It is next to impossible for any child to describe the persona of his/her mother in a few words. A mother is such a towering and selfless figure that no length and amount of description can do justice to her personality. Dear mother, thank you to the moon and back for giving me infinite love and the finest nurturing. Happy mothers day to my one and only god.
There is a reason why God has given the power of bearing bone-crunching and blood-curdling pain of giving birth to a child only to women. Because only a woman has the needed patience to give birth to the purest form of life – a child. On the auspicious occasion of mothers day, I would like to dedicate all my life, success, and laurels to my lovely mother. No one can ever be like you, mother!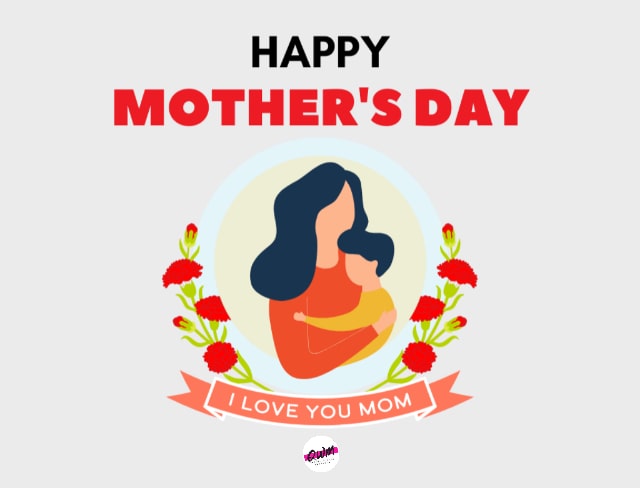 The very idea of celebrating mothers day on a particular date seems preposterous to me. A mother makes so many sacrifices for the well-being and momentum of the family that even the 365 days of the year seem less to celebrate motherhood and the love of mothers. Mother, you are the sweetest blessing as well as the most pivotal person of my life. Happy mothers day!
Also see: Funny Mothers Day Puns
For any average person, it is daunting to comprehend the significance of a mother in one's life. Day in and day out, a mother works tirelessly to take care of the whole family and make sure no one gets bothered by the trivial things and focus only on their dreams. How can a person be so selfless and yet so loving at the same time? In this whole world, I love you the most mom. Happy mothers day!
On mother's day, most of the kids give intriguing and alluring gifts to their mothers, upload selfies with mothers on social media platforms but no one spends ample time with a mother, and ask about her well-being, dreams, and what she loves to do. Dear mother, I promise I will never leave you alone and take care of you like you take care of us. Thank you for loving and supporting me unconditionally. Happy mothers day!
Also see: Funny Mothers Day Jokes
Mothers day is the day to tell your mother how grateful and blessed you are to have her in life. Tell your mother that she won't have to crush her dreams anymore in order to fulfill yours. Now, her kids are more than capable to take care of her in the best possible way. Shower unconditional love on her, pamper her, open your heart for her, and thank her for everything she has done. Happy mothers day to the loveliest mother!
If it were in my hands, I would have declared every day of the year as mother's day a long time ago. Mothers day is one fine opportunity to express your thankfulness, love, and respect towards your mother and tell her that you will always be there for her no matter what. You must cherish every moment you spend with your mother because life is unpredictable and no one is immortal. Happy mothers day to the sweetest mom!
Also see: Funny Mothers Day Captions
If god lands on earth and grants me a boon, I would ask him to make your mother in every life. My existence is colorless and baseless with your love and support, mother. Whatever little successful and cheerful I am today is because of your relentlessness and selflessness to take care of me. I couldn't ask for a better mom. Happy mothers day, lovely mother!
If someone asks me to make a list of all the reasons why I love my mother, it would take me multiple lives to write down everything in the book. Above all, I don't need any reason to love my mother because she has done the greatest thing of her life by giving birth to me and I will forever be in debt of her. I love you mother and I wish for your impeccable health. Happy mothers day!
Also see: Thankful Mothers Day Messages
Since the beginning of my conscious life, I always believed that angel exists because one of them is my mother. Not only you are my best buddy but also an exceptional mentor, a watchful protector, and a loving caretaker. Now I understand why mother is the only perfect creation of God. I love you mommy and happy mothers day!
Mom, I still don't understand how can you be so loving and kind all the time in spite of so busy in the household and professional chores all the time? Does God has given some superpowers to you which you are hiding from us? Thank you mother for showering outrageous joy and love to my life. You are my unshakable support. Happy mothers day!
Also see: Happy Mothers Day Prayers Messages
Dear mother, thank you so much for teaching me all the essential things that I must know to live a happy and serene life. Also, thank you for teaching me the significance of love, self-respect, and dreams in life. Your wisdom is unrivaled and your heart is so big that you can give love to everyone and still be full of love. Happy mothers day!
If God didn't make mother, this world would have been destroyed a long time ago. It's a mother who holds the whole family in a single thread. Even if someone gets on the wrong path, you know how to bring him/her back without interfering in individuality. I know one-day destiny will part our ways but till then, I want to live my life to the fullest with you. God bless you and happy mothers day!
Also see: Happy First Mothers Day Quotes
That which everything is pure and pious; is from mother, and mother is. You are the sky of mine in which I fly safely and feel protected. You are the one who can fight any force for her child. You are the one who can sacrifice anything, even herself for her child. Mother is not just a word while it is the whole world from which everything takes birth and everything dies. Mother is always omnipotent; that is how you are my great mother. Happy mother's day to you!
Whatever is said about mother, it is always less because to praise mother everything seems less. That is how beyond she is and across. You are that river in which thousands fishes live, you are that stream that fires off thirst; you are that moon that gives light; you are that force that makes everything powerful; you are that source from which everything originates. You are my mother beautiful. Happy mother's day to you!
Also see: Mothers Day Messages to Friends & Family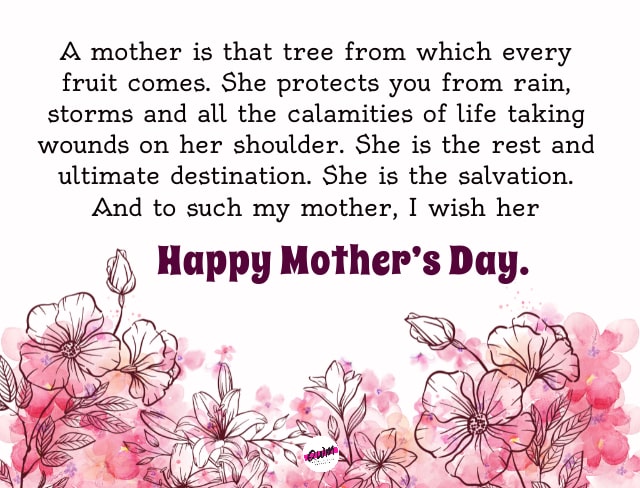 You are my mother and when I see you I think how fortunate I am to have a mother like you. In this world everything is fake but the only truth is mother. The love and care of mother is only true feelings for her child while others' are deceptive and illusive. Even I am the maven of languages yet I am a little less to describe you that how amazing you are. Happy mother's day to my amazing mom!
Only the one being is able to sit equal to Gods; and the only one being who is above than Gods is; mother. You are sacred, dutiful and the one who fulfills every promise of her. When you come to your own then you can even shake this earth. There are infinite numbers of examples how mothers are so powerful when come to their child. I salute and bow down to you mom that for me you are always standing taking care of me. You are a universe. Wishing happy mother's day to my sweet mom!
Also see: Funny Mothers Day Wishes
For me you are a deep ocean in which I can dive anytime to get peace and relax and where everywhere is so silvery whose light comes across my heart making it tranquil. I don't know how I thank you for all of this. While everything a mother does for her child is out of love. Every mother is blessing for her children as you are for me. Wishing happy mother's day to my divine mother!
For a child the treasurous wealth is her mother's love and nothing more and much than that. Mom, you are the breeze that gives me solace and slumber of paradise. Even I must you are my paradise, abode of all happiness. A thing can be ugly but no mother could ever be. You are the symbol of beauty and care that nurtures her every child. Even physically and transcendentally you are the ultimate origin. I love you mom much than the waters of seven oceans. Happy mother's day to my good mom!
Also see: Mothers Day Messages for Godmother
I don't need to go any temple to seek blessings because my temple is you my mother and goddess also. Every day I pay respect to you, that is how I start my every day. Since the birth of mine you have woken up some whole nights to see whether I sleep properly. Even to this day you come at nights and caress me to see whether I am good or not. Your touch is gentle and peace for me that I feel it is slumber. You are a pious grace my mother. Wishing happy mother's day to you!
Whenever I am in chaos, I only see you as my solution that I know you provide. When you are there for me I feel myself free from any worry and misery. Your tasty food when I eat takes me back to my childhood. Your guide is a message for me that I pave with my utmost faith because I know you only think of my benefit. Mom, in your lap I have taken birth and in your lap I end it. You are generous, kind and full of positivity that I adore. Wishing happy mother's day to such beautiful mom of mine!
Also see: Mothers Day Quotes for Mother-in-Law
You understand every pain of mine before I tell you. You put off every need of you to fulfill mine. For you, my happiness is prime and before it nothing matters to you. Your whole life you have dedicated towards me that's how you are. You are my mother, a pearl of love you are. Wishing happy mother's day to my pearl like mother!
If God ever comes before me and says to me what I want then I take the name of you mother. You are that shadow under whose love I have become what I am today, a gentleman. Your affection has made me strong and at the same time has filled me with courage. You are a lioness, a determined woman who is never afraid of anyone and that path she walks on. I am proud to be your son. You are simply lovable always. Happy mother's day to you mother!
Also see: Mothers Day Quotes for Wife
Everything could be incomplete but mother is complete. She is the one who plays multiple roles in her life giving love to everyone. She is that deep river in which love and emotions dwell. She is the nectar whose light emanates everyone. In this world what is pious and pure; is mother. You are unsurrendered, beyond and magical being. For me, mom you are the queen whose reign never ends. You are always revered. Wishing happy mother's day to my mom!
A child is connected with umbilical cord with its mother. It comes out when it is cut down. Nine months of pain, a mother reaps her child with love inside. She is the portal through whom we have all come to this land. Then she is the deity. Oh my dear mom I pay homage to you with my true devotion. And on this ceremonial day for mothers I wish you happy mother's day.
Also see: Happy Mothers Day Niece Quotes
I try to thank you mother but fail because I have come to know I can't thank you because your duty for me is massive. It couldn't ever be calculated and measured. When I take the name of you I get settled and the immense support I feel like someone is giving me hand from behind invisibly. Still, with all that being so humble I thank you for everything. Wishing happy mother's day to my kind mother!
No tool and device could measure the sufferings of mother that she goes through for her child and family. If they come to measure, they all break. Yet everything she tolerates with a smile. A mother is that butterfly that sprinkles the grains of happiness in her child's life fluttering gently. To my mother I am forever there for you holding always. You are my life. Wishing happy mother's day to my mother divine grace!
A mother is that tree from which every fruit comes. She protects you from rain, storms and all the calamities of life taking wounds on her shoulder. She is the rest and ultimate destination. She is the salvation. And to such my mother, I wish her happy mother's day.
You May Also Like: