Death Anniversary Messages for Grandfather: Grandfathers are the dearest and nearest to all little runts. Losing the loveliest person in life at a tender age can be a deeply sorrowful and breaking experience. Because a grandfather gives a perfect touch to the childhood of his grandkids by giving them ample love and affection, supporting their crazy dreams, and pampering them all the time. It becomes next to impossible to express words or emotions freely when you lose your grandpa. If you don't want to utter any word on his death anniversary but like to pay tribute, you can hop on to our compilation of heart touching death anniversary messages for grandfather and emotional grandfather death anniversary quotes that will help you to pay reverence and tribute to your grandpa, and express how badly you miss him.
Grandfather Death Anniversary Quotes
Whoever says you are dead is completely frivolous. You are very well alive in my beautiful memories and holy prayers. I remember my amazing grandpa on his first death anniversary!
Years have passed and years will pass but your teachings, outrageous love, and mesmerizing memories will always remain close to my heart. I miss you like hell, grandpa. May the almighty provide peace to your soul through my prayers.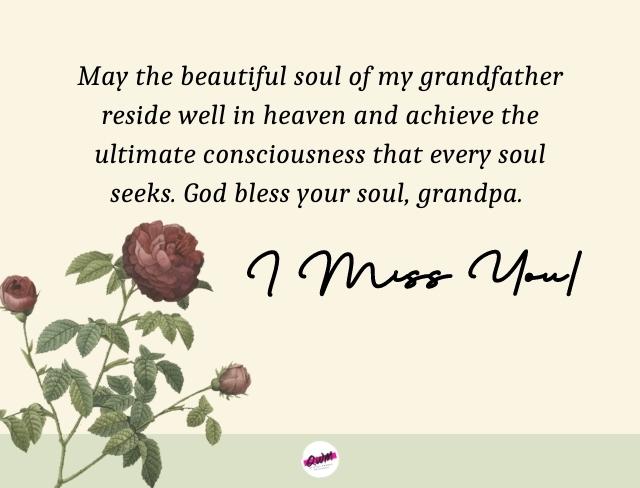 Losing an amiable person like you tragically and untimely is the biggest regret of my life. I won't let you die, grandpa. I will keep you forever alive in my memories and hearty prayers. Remembering my sweet grandfather on his second death anniversary!
Also see: Death Anniversary Quotes
Three years have passed but the pain of losing you hasn't gone down a bit. My heart still crave for your pure love and unfathomable affection. Dear grandpa, I pray for the peace of your soul residing in heaven!
The soul to soul connection is what keeps a deceased one alive till eternity. My soul has unified with you that's why I have stopped repenting your demise. I miss your fatherly touch grandpa and I pray for your solace.
If I travel the whole universe, I cannot find a cooler and funkier grandfather like you. You were the most caring and the kindest person in the whole family. You will be remembered for a long time by all your loved ones. Remembering my amazing grandfather on his first death anniversary!
Dear grandfather, I can't see and touch you but I can sense your vivacious presence every moment. You are not dead. You are alive but in another dimension. One day I will meet you and hug you tightly. You are greatly missed, grandfather!
I have heard that those you love the most never die. They keep themselves alive in your memories and prayers through the love they shared. I still miss you grandfather. I hope you are residing happily in heaven!
Our family has a legacy and a shining name all because of you, grandpa. You were a man of integrity, strength, and persistence. You deserve to rest well in heaven and in peace.
Also see: Death Anniversary Messages for Friend
I am more than saddened to remember the great soul of my grandfather on his death anniversary. This world is not a happening place to live with you. Rest in peace, grandpa!
It will be a matter of big honor for me to spend the rest of my life carrying the legacy you created with your relentless efforts and vision. You are gone a long time ago but your love is alive in my heart. I miss you, grandpa!
It was more than difficult to say goodbye to you, however, your blessings and teachings have always kept me hopeful and cheerful. Remembering you on your first death anniversary!
May the beautiful soul of my grandfather reside well in heaven and achieve the ultimate consciousness that every soul seeks. God bless your soul, grandpa. I miss you every single day!
I am quite sure you must be proud of my massive achievements. I wish you were alive to pat my back and shower blessings. I seriously miss you like hell. You will always be alive in my heart, grandpa!
Dear grandfather, you were the epitome of simplicity, generosity, and hard work. You will be glad to know that the legacy you created is in safe hands. I just miss your angelic presence every moment. I honor your deeds and I remember you on your death anniversary!
Also see: Death Anniversary Messages for Father
Death Anniversary Messages for Grandfather
Dear grandfather, the pain of losing you still prevails in my life. You were the most sagacious member of this family and the biggest supporter of my dreams. Your presence cannot be filled by anyone. I pray for the peace of your soul, and I remember you on your first death anniversary!
I know death is unavoidable but losing you in such a dreadful manner shook me badly to the core., I terribly miss your affection, bedtime stories, and jolly nature. You will always be alive in my memories grandpa. May your soul rest in peace!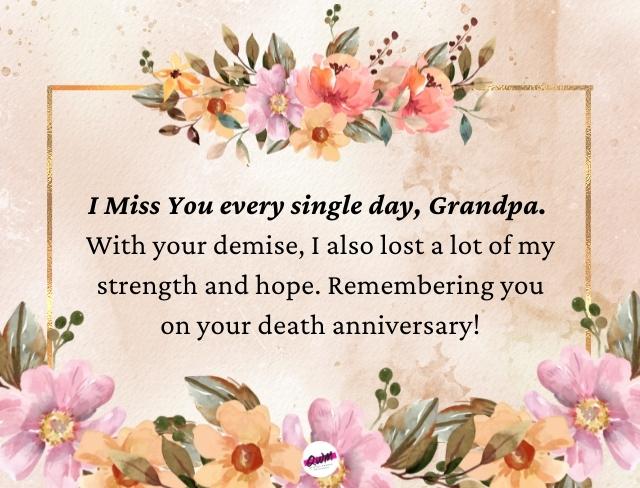 You were suffering from a severe disease but you left us too soon. God could have given you a few more years to relish life with us. Grandpa, you are badly missed by everyone. You are alive in my prayers and thoughts.
Also see: Death Anniversary Messages for Grandmother
I wish you could live for a few more years so that we could elicit knowledge, wisdom, and more love from you. I miss you every single day, grandpa. With your demise, I also lost a lot of my strength and hope. Remembering you on your second death anniversary!
Grandfather, you ramshackle all my dreams of living a frisky life with you for a long time. I was planning to fulfill a lot of your dreams but you shattered mine by saying bid adieu to us. I still fill your soothing presence around me. Rest in peace grandfather!
Dear grandfather, you were the most generous and magnanimous soul I have ever known. You taught me how to live life in a gracious and prideful manner. Your life lessons and smile are greatly missed and remembered. May your soul becomes one with the ultimate.
Also see: Bible Verses About Death
There is nothing more devastating than losing a person you love the most in front of your eyes. You were the perpetual source of happiness and inspiration for all of us. I will make sure your memories be cherished by everyone and everyone remembers you in their prayers.
On the mournful occasion of the death anniversary of my grandfather, I request all my loved ones to get together and pray for the solace of grandpa's soul. Life is not at all same without you. I wish I could hop onto heaven to give you a tight hug.
Your body surely has left this world but your soul is still with us and I can feel your presence all the time. I pray for the peace of your soul all the time. We all remember you and pray for you on your 10th death anniversary.
No one can conquer death, not even the mightiest soul. You and I are nothing more than common beings. The sorrow and emptiness your death has created are difficult to get over. I will miss you grandpa as long as there is a single breath left in my life. May god renders peace to your soul!