Happy Mothers Day to Me: Being a mother of lovely and chirpy kids is the most beautiful feeling for a mother. A woman plays multiple roles in her life but none could match the grace, liveliness, and compassion of the role of a mother. However, in order to take care of everyone in the family, a mother sometimes forgets about her own identity and doesn't take care about her own well-being and dreams. If you are a working mother, housewife, or both, you must appreciate yourself first for doing the toughest job in the world. This post comprises a praise-worthy and enticing collection of happy mothers day to me wishes and mothers day messages for myself 2022 that will surely raise your energy and self-esteem.
Happy Mothers Day Messages to Myself
I consider myself as one of the most blessed individuals because I am a mother by god's grace. I am super proud of myself for being a responsible, caring, and loving mother to my little tots. Happy mothers day to me!
It takes immense sacrifices, care, and compassion to be a perfect mother to your children. I feel I am a great mother because I have supported my kids in every possible way. Wishing happy mothers day to myself!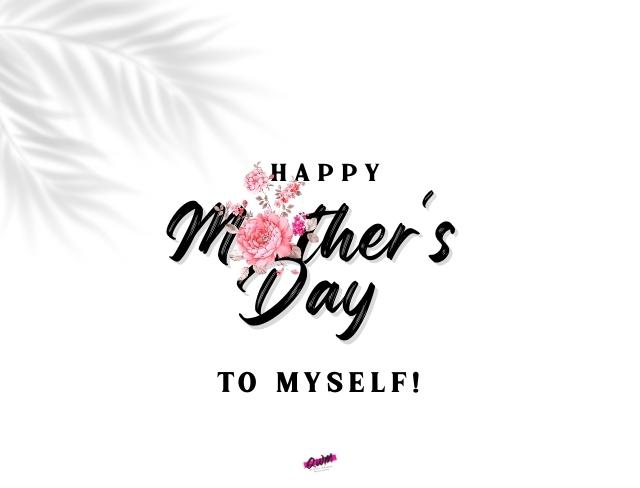 My day begins with the giggles of my kids and ends with their sweetest hugs. What else a mother expects except for the unconditional love of her children. May lord gives me ample strength to protect my kids from all threats. Happy mothers day to me!
I know I am not the greatest mother in the world but I can do anything to make sure my kids get the best of everything. I will strive every single day to become the best mom. Wishing happy mothers day to myself.
Being a mother is far bigger than acquiring any degree or running a multi-million dollar business. I embrace my motherhood to the fullest and I am proud of being a loving mother. Wishing a joyous mothers day to me.
For a mother, all the sacrifices, sleepless nights, and crushing of her own dreams seem worthy when her kids succeed and shine her name in the world. Hey Lord, give me the strength to be an ideal mother for my kids. Happy mothers day to myself.
To the loving and caring mother in me, from the depth of my heart, I wish a very happy and mesmerizing mothers day to myself. May I always do the best for my children and never let them down.
For a mother, life is always incomplete without having children. I consider myself more than blessed because I have three little, cute, and notorious runts who give me oodles of lovely vibes. Thank you lord and happy mothers day to me!
On such a soulful occasion of mothers day, I take a vow to become the most caring and compassionate mother in the world. I will never give up on my children's dreams and render them the best possible education and life. Happy mothers day to me!
I play multiple roles in my life. The role of a wife, daughter, sister-in-law, but out of all, I savor and love to play the role of a mother most. May all the wishes and dreams of my sweet kids come true. Wishing happy mothers day to me!
I have never thought that I have such strength in me like a mountain that I can hold anything on my lap as a mountain can. My kids are everything for me and the way I have raised them, they are unbeatable. I am proud of myself as being mother. Wishing happy mothers' day to me!
I don't have words to describe how amazing single mom I am. Without anyone's help I have come so far in my life where I see everywhere happiness with my kids. I only believe in God and he has given me everything. Thank to him and thanks to me. I am single supermom. Wishing happy mother's day to me!
I consider myself a fighter, a woman who never gives up, a single mom who never gives for her children. I have done everything myself for my kids grounding on my feet. Wishing happy mother's day to me! May I never admit to downs in life!
Raising a kid is like watering a flower. If you do less or more, it would ruin it. I am always there for my son holding him and still and forever. The woman I have shaped myself over the years and being as a single mom, it is wonderfully impressive. Wishing happy mother's day to me! May I go beyond the sky!
Nothing could defeat me. And I have known it because I believe in me. For a single mom it is always somewhat difficult journey raising a kid. But I must say I have done job well, so praise worthy. Happiest mother's day to me! May I fly and never stop!
I am the best mom. I wish myself happiest mother's day to me. Such a charismatic single mom I am that can raise kids and even her businesses that single handedly build myself. May I always be firm believer in me!
A woman is powerful. When she becomes a mother, she is much powerful filled with infiniteness of it. And I am that. I love kids with the depth of oceans. What a single mom I am! Wishing happy mother's day to me! May I always be the way I be!
You are the maker and creator of your destiny. As a single mom you have made yourself, you are making your kids. What an amazing journey! I am achieving. My kids are my life. Wishing happy mother's day to me! May all choices be mine!
What the things I can't do in this world? I can everything. My kids are my paradise. I am proud of myself being a single mom. Wishing happy mother's day to me! I love myself.
All the love to me and to my kids that are my universe. And with all that wishing happy mother to me, prettiest single mom!
You May Also Like: