Mothers Day Quotes for Teacher: A teacher is the second mother for a student. If mothers take care of the physical nurturing of their kids, a teacher takes care of the education, cognitive development, and honing the skills of the students so that they can become well-skilled individuals and contribute to the growth of the nation. On mother's day, you must express your sincere thankfulness and love towards your teachers by sending them happy mothers day wishes for teacher and make them smile with your touching greetings. Your teacher will definitely feel overwhelmed when they receive so much love and respect from you.
Happy Mothers Day Messages for Teacher
Like mothers, teachers also play an integral role in carving the future of kids. From the depth of my heart, I wish a very happy mothers day to all my teachers who have nurtured me, loved me, and taken care of me selflessly. God bless you all!
Dear teacher, not only I find a par-excellent teacher in you but also a caring and loving motherly figure who is compassionate towards everyone. I wish you a very joyous mothers day. May you live for 1000 more years.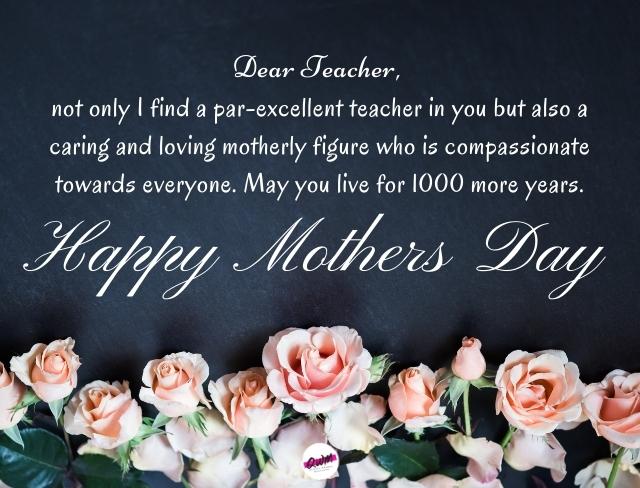 The education and overall development of a child depends on the mother as well as a teacher. If a teacher doesn't play his/her part well, there is no way a student can achieve dreams and become a successful individual. Happy mothers day to you teach and thank you for instilling fine education and values.
Also see: Funny Mothers Day Wishes
Respected teacher, if I say thanks to you uncountable times, even that will not be sufficient enough to express gratitude and back pay for what you have done. Thank you for having my back all the time. Wishing happy mothers day to the best teacher ever!
By leaps and bounds, you are the most intellectual and selfless individual I have ever seen. It's because of your teachings and support, I have managed to make a name for myself. You are no less than a motherly figure to me. Happy mothers day teacher!
Also see: Mothers Day Messages to Friends & Family
I was the weakest kid in the classroom yet you never gave up on me. I don't know how to say thank you because if it weren't for your tenacity, my future would be dull. Happy mothers day to the most special teacher ever!
On the soulful occasion of mother's day, I want to extend my warmest greetings to my mentor, my favorite teacher for being so awesome and so patient with students. God bless you with amazing health and fulfilling life.
Also see: Happy First Mothers Day Quotes
I can forget everything in life but I cannot forget priceless lessons and values you have imbibed in me. You are not merely a teacher, you are a country maker. Happy mothers day teacher and have a great celebration!
After my lovely mother, if there is any person who has looked after me and cared about my future and well-being, it's you teacher. If every student has a teacher like you in his/her life, no student has to worry about studies and future. Happy mothers day to the most special teacher!
Thank you so much teacher for illuminating my mind by instilling real education and fine moral values. The way you teach reflects how passionate you are about teaching and care about the future of every student. Happy mothers day teacher!
Also see: Heart Touching Happy Mothers Day Quotes
Mother's Day Quotes For Teachers
Being an orphan kid I didn't know what the love of mother was. But you my angel teacher that came into my life has guided me and also given me the love and care of a mother. My whole life is indebted to you. Wishing happy mother's day to my kind teacher!
Your way of teaching was different. You used to teach children as your kids being a mother to them. And I was your favorite so got all the love of a teacher also and mother also. Thank you for making me what I am today. Wishing happy mother's day to the best teacher in the world!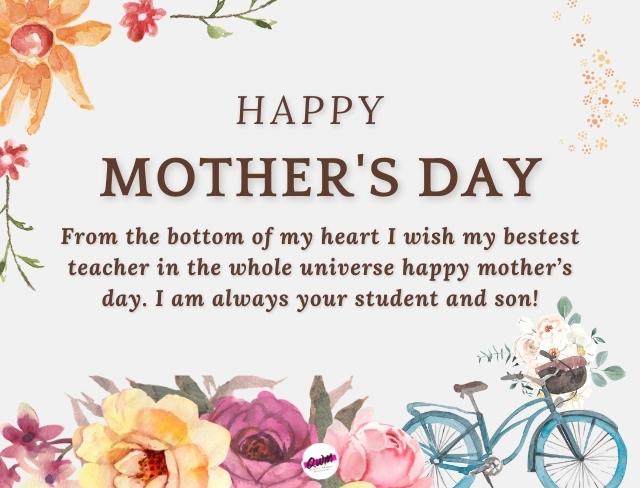 Also see: Happy Mothers Day Prayers Messages
You have never shouted on me as my teacher. Yes, you are so disciplined but you are kind too. And with this kindness, your love of mother has poured over me. Happy mother's day to wonderful teacher mother!
You were always there for me as my teacher and after school you were always there for me as a mother. Being my mom's friend you have given me the same love. I am lucky to have two moms in my life. Wishing happy mother's day to my favorite teacher!
Also see: Thankful Mothers Day Messages
A teacher is always special to his or her students, and especially a female teacher because she has the discipline of a teacher and mother too. I thank to God that you came into my life and nurtured it well. Love you mam. Happy mother's day to my caring teacher!
I have become a successful business man today but I still remember those days of my school when I first entered and I was a new student and getting afraid and then you came there and said to me, 'son'. And I felt my mother was calling me. You were my first teacher whom I can call and love as a mother. Wishing you happy mother's day!
Also see: Funny Mothers Day Captions
I don't know how I thank you but your care and teaching have influenced me a lot. The way you used to teach me and cared for me; I have never seen such teacher in my life. I love you as my teacher and always there for you as your son. Wishing happy mother's day to awesome teacher!
From the bottom of my heart I wish my bestest teacher in the whole universe happy mother's day. I am always your student and son!
Also see: Funny Mothers Day Jokes
You didn't have any son and you made me yours. As a teacher you have given me all knowledge and education; and as your son, you have poured on me unconditional love of a mother. Happy mother's day to you!
As your student I don't know I have given you best result or not but being your son I will always give you best. I have never seen a teacher like you who teaches as a mother. Happy mother's day to you!
You May Also Like: