Wedding Wishes for Brother: For a sister, watching her brother tying the wedding knot with his new life partner is one of the most emotional and heart-tugging moments. A brother and sister share a special bond and a myriad of unforgettable memories. The wedding of a brother adds a new member to the family and also gives a best friend to the sister of that brother. On such a beautiful and fascinating occasion, don't forget to congratulate your lovely brother by sending him inspirational and emotional wedding wishes for brother along with some lavish gifts and surprises. Make sure that the most special day of his life gets etched in everyone's memories.
Emotional Wedding Wishes for Brother
Finally, the last, as well as the youngest member of our family is down. Yes, his heart gone down in front of my sister-in-law. Congratulations brother on your wedding! May both of you have gobsmacking life ahead!
Your marriage is the most exciting event happening in our family in years. Cheers to your new phase of life and let's welcome the new member with zing!
My baby boy brother is finally going to tie the wedding knot and become a real man. May your married life be full of happy and glorious moments!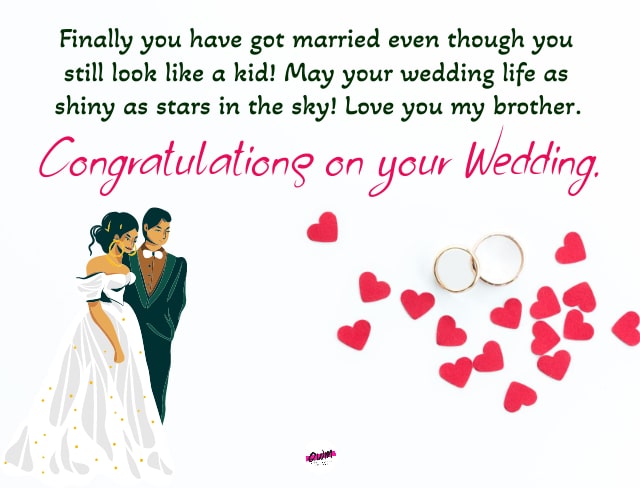 With your marriage, The doors of good luck, love, and endless opportunities will open for you. May all your childhood dreams come true now. Happy wedding to both of you!
I wish nothing but a swash-buckling and dazzling life ahead for both of you. Wishing my sweet brother good luck in beginning the new phase of life. May you have an unforgettable wedding life!
You are a truly amazing brother, an obedient son, and I am damn sure you will be an exemplary husband. May you find the happiness of a lifetime in this new and swoon-worthy relationship.
Also see: Wedding Anniversary Wishes for Brother
My lovely sister-in-law will surely bring a wave of freshness, love, and blessings to your life. The more you respect your wife, the more your luck will shine. Never leave each other hands. Happy wedding brother!
After long and exhausting cycles of seeing girls, finally, you have found the one with whom you are ready to rock your life. Watching you smile all the time gives solace to my heart. Congratulations to my lovely brother!
Hey brother, I am pretty sure that my new sister-in-law will give so much joy and freshness to all the family members that no one has experienced before. Let's welcome the beautiful member like we are celebrating a festival. Mighty congratulations on your marriage!
Marriage is one of the biggest life-changing experiences in the life of any individual. You have gotten the loveliest life partner who will bring a lot of magical things into your life. Savor all the moments of your married life. Congratulations, sweet brother!
Finally you have got married even though you still look like a kid! May your wedding life as shiny as stars in the sky! Love you my brother. Congratulations on your wedding.
Now my brother, you are a husband also of your wife. I wish you become a good husband and friend of your wife and live married life happily. Cheers to a new beginning to your life!
Though this chapter has already begun in your college but now you have signed it now as being a husband of your girlfriend. I wish you live happily and merrily. May yours and your wife's all dreams come true!
Married life is successful only when you both adjust to circumstances as the time demand. I wish you both understand yourselves deeply. Happy married life my brother!
I wish first of all you take care of your wife in every situation. May you get to the new heights of success and always keep your wife happy! That's bet on married life.
I wish you both live your married life as you want. May no hurdles come in your married life! May God grace you always!
May all the abundance of materials and emotions you both get! May your all wishes come to reality! Happy married life my brother!
I wish may peace come to you in your married life. This is very much necessary! Be the admirer of your wife. This is the secret of happy married life. Wish both of you best of luck!
I wish you celebrate your all marriage anniversaries as your marriage. Happy married life my brother! Keep it strong!
I wish may you both never lose each other's trust. Wishing both of you a happy married good life my brother!
Also see:- Wedding Anniversary Wishes
Brother Marriage Quotes
Our joy is breaking all the boundaries, our excitement is touching the sky, and our family is becoming bigger. You are the reason behind oodles of happiness. I am super happy for you brother! Happy wedding!
I swear to god I have never seen such a beautiful couple. I mean whenever I look at you, it seems like you two are born to become life partners for each other. I know you guys will have astonishing life ahead. Happy wedding!
On such an auspicious and much-awaited occasion, I genuinely wish you guys have an impeccable and utterly exciting married life. May pernicious things stay away from you and both of you love each other like maniacs. Happy wedding to my lovely brother!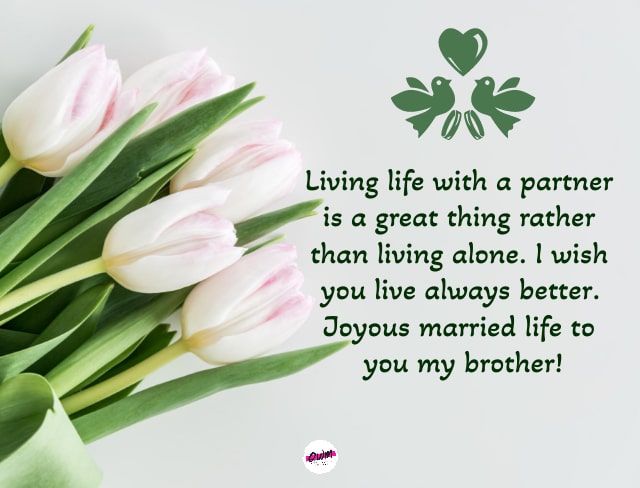 My sister-in-law is one heck of a lucky girl as he is marrying a man that every girl would love to have as a life partner. Always respect each other thoughts, work, and give space as well. These are the keys to a happy married life.
Hey brother, I was sick and tired of listening and having boring talks with you. With your marriage, that problem has been solved. Now I have such a lovely and intelligent sister-in-law with whom I can talk endlessly. Thank you brother for bringing such an adorable sister in law in my life!
Oh! You have got married. It means you have already become a dad. Stream of responsibilities. May you pay well! Wishing you happy solid married life brother!
Living life with a partner is a great thing rather than living alone. I wish you live always better. Joyous married life to you my brother!
Be a husband is not much necessary as being a friend of your wife. That is how you can fly in a married life. Wishing you all the best for your married life brother!
Never be silent in your married life. Speak and converse. This is the solution of all married life problems. I wish may you never have. Wishing fantastic married life my brother!
Don't understand you have married a girl. Just understand you have got a permanent friend in your life who would never leave you. Wishing you all the happiness of married life my brother!
Also see: Wedding Anniversary Wishes for Husband
Heartfelt Wedding Wishes for Brother
Hey my cute brother, the news of your wedding filled my heart with all the happiness in the world. I don't believe my shy brother is starting a new phase of life. You better take good care of my beautiful sister-in-law. God bless you, sweet brother. Happy wedding!
I am in a deep state of flabbergast after hearing your wedding news. Finally, a new addition to our family and indeed a much-coveted. I wish heaps of blessings and good luck to you and your wife. Happy wedding brother and welcome to the beautiful sister-in-law in the family!
Blessed are those who get to experience the beautiful bond of marriage and one of those blessed persons is my handsome brother. Your wedding will open the gates for the flood of happiness in our little beautiful home. God bless you and savor your wedding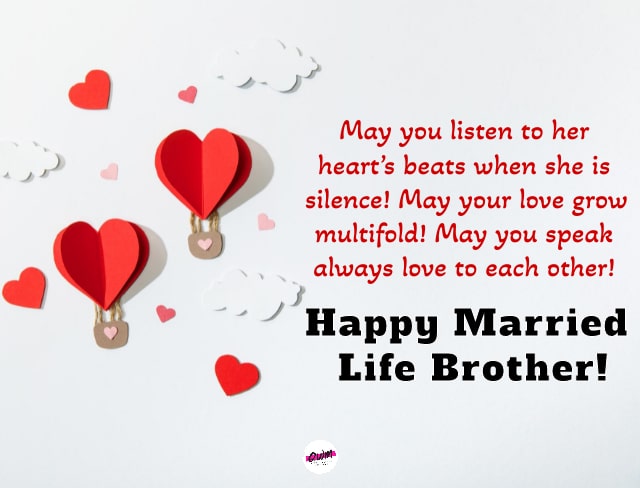 Many congratulations to my one and only brother for getting hitched with the love of his life. You are an ideal brother, and I am pretty sure you will turn out to be an ideal husband too. God bless you and my lovely sister-in-law!
It's easy to begin a new relationship but it's difficult to keep growing it with love and affection. I know you possess all the qualities of becoming a great husband. Don't disappoint us and take amazing care of my pretty sister-in-law. Happy wedding brother!
May you listen to her heart's beats when she is silence! May your love grow multifold! May you speak always love to each other! Happy married life brother!
May you have the wealth of emotions in your married life as much as you have of the materials! Wishing you best married life brother!
You are my kid, friend and brother. It feels so emotional to see you getting married. All the blessings of life to both of you! Wishing you magical happy married life brother!
May you always understand your wife special! May you always treat her like a princess! She is your queen. May you always be her side! Awesome married life to you brother!
Now you just don't live for yourself while for her also your wife. I wish you live both lives smoothly with no hurdles. Wishing you rock star married life my brother!
Also see: Wedding Anniversary Wishes for Wife
Funny Wedding Wishes for Brother
The news of your wedding is giving me some server headache. I mean which girl is stupid enough to spoil her entire life with you? Jokes apart, congratulations on getting hitched, and take care of her like a crazy lover!
I will pray for sister-in-law day in and day out for her well-being and peace in life. When she is going to live with you, troubles and irritation are bound to arise. Never devalue her and treat her like a goddess. Happy for you brother!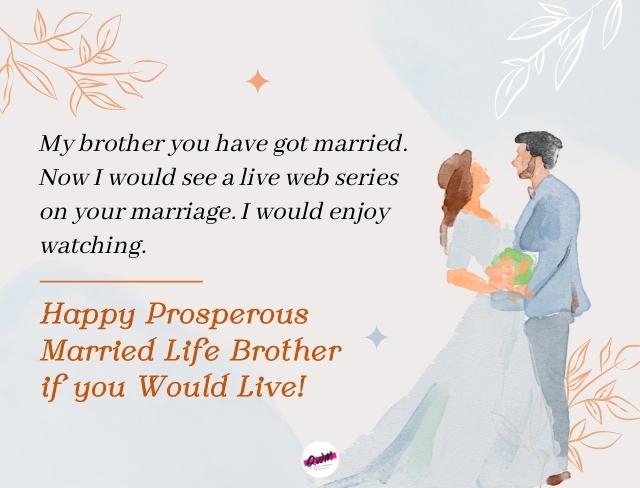 For a lazy ass and perennially demotivated person like you, we always need a sharp, blunt, and forever energetic girl and we got it. Now your days of sleeping like a beer are over. Happy wedding brother and best of luck for future challenges!
No matter how smart a man is, he can never hide anything from his wife. From now on, no more late-night parties, smoking, drinking, and flirting out. Be a good man for your wife. Happy wedding brother and be prepared!
Also see: Birthday Wishes for Brother
Finally, the day to throw your irritating play stations and stupid video games has arrived. The amusing part is you can't do anything about it. Please grow up and don't embarrass me & other family members in front of my sister-in-law. I wish you happy married life!
My brother you have got married. Now I would see a live web series on your marriage. I would enjoy watching. Happy prosperous married life brother if you would live!
Now you would go easy always. You are in the grip now that even you pray to God you could not come out. Happy married life brother! Save yourself!
As life would go, your wife would become a live audio that you don't want to hear but need to always pay attention! May you enjoy my brother your married life!
If you can become successful in your married life, you could become successful everywhere. This is the biggest myth and false! Live your married life safely and who knows in heaven!
May you taste honey in sour waters of a married life! I pray for solitude my brother. Wishing you lovely dreamy married life!
Also see: Engagement Wishes