Sweet Text Messages to Your Boyfriend: Some boyfriends may absolutely love going on candlelit dates, serenading you with love songs, writing you love poems, and all that lovey-dovey stuff. But then again, there are some men who don't vibe with these sorts of mushy proclamations at all! If your boyfriend falls in the latter category and you are looking for ways to express your love for him, don't worry. We have got you covered.
Imagine your boyfriend falling asleep smiling as he reads your cute goodnight messages for him. Isn't that something you would love to do every day? But you need to be careful with what you put in those messages. If your boyfriend is not into mushy stuff, you can show affection by praising him and telling him how much he means to you. Praising his qualities will make him feel more secure and comfortable around you. The key is to be genuine because someone who is not mushy will like right through your overly romantic mushy messages and think you are being inauthentic.
You might think of it as a small gesture, but sending him an honest message from your heart can make your boyfriend feel like the most blessed person in the world. You might not be there with him physically, but a lovely message is an effective way of making his day that much brighter.
And don't worry if you are out of words for your perfect man. We have covered you with some of the best romantic and funny text messages for boyfriend that will lighten up his mood in no time and leave him blushing for hours.
It's time to surprise your boo with witty and romantic cute texts that say something more than just "I love you." Read along and send some of these Romantic and sweet Text Messages for Boyfriend today to make him feel loved. And don't hesitate to add your own unique touch to these texts to personalize them for him!
Romantic & Sweet Text Messages for Boyfriend
Look at you! Woah! How can someone be so perfect?
I don't know why but my fingers dance before texting you.
I want to thank you for lighting up my heart and my life.
My whole soul smiles whenever I meet you.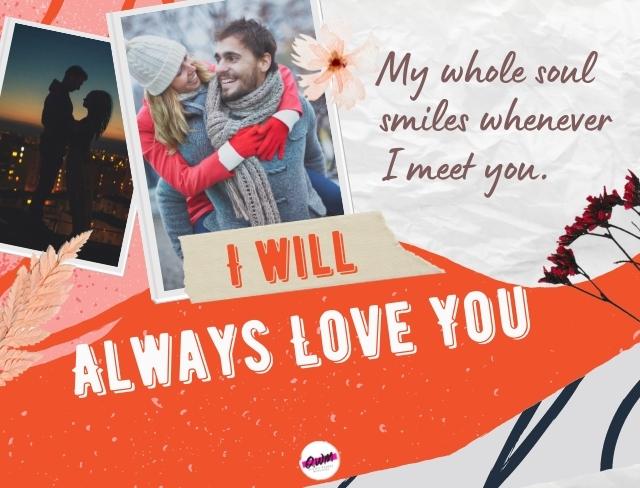 Also see: You Complete Me Quotes
The thought of you being my life partner puts a smile on my face every morning.
It's not the clothes. You look good in everything (and without clothes as well). Just saying…
All those mistakes in the past, only to get a reward like you, are like blessings in disguise.
You give me butterflies every time you look at me.
You may not believe in the concept of soulmate, but you sure as hell are mine.
Also see: I Love You No Matter What Quotes
Being your girlfriend is more than an achievement, to be honest.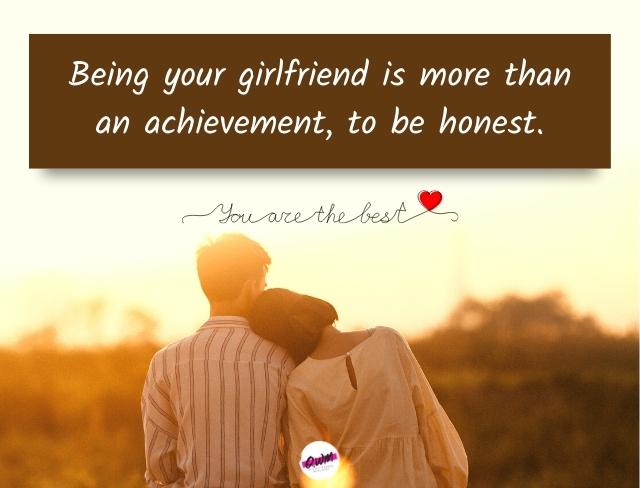 Oops, someone dared me to say this, so here it is – I love you! (Psssst…well, that "someone" is me!)
I can spend all day thinking about you and only you, my lucky charm.
Uggghhhh! I'll die if you don't send me a pic of that smile of yours straight away.
Also see: Pure Love Quotes
The moment I saw you, I was like, "My life is never going to be the same again."
You are perfect, and that's why I'm out of words to express my love for you.
The most important letters in my life: Y O U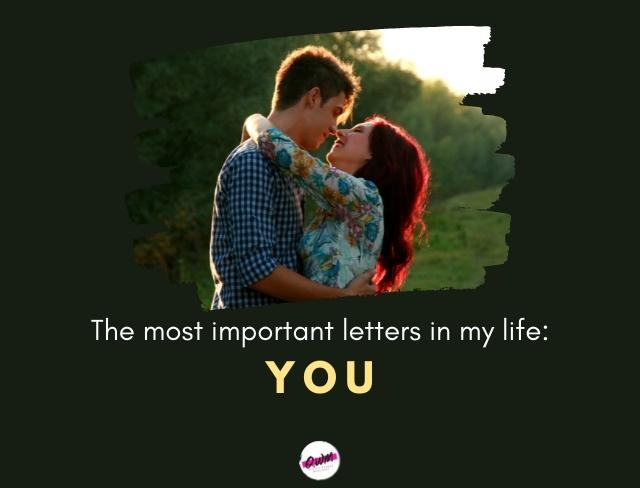 Also see: Romantic Falling in Love Quotes
I don't know what is more challenging: my math test or going a day without meeting you.
I can't think of anyone whenever I'm around you, not even Chris Hemsworth. (Now, don't question my loyalty!).
It's crazy how much I miss you when you are not around and how much I look forward to meeting you when you are away.
I would choose you in every version of every reality out there.
Just missing you, so I might double text you. Love you, texting you soon.
Also see: Passionate Love Quotes
Notice: Your girlfriend is missing you, kindly call her ASAP.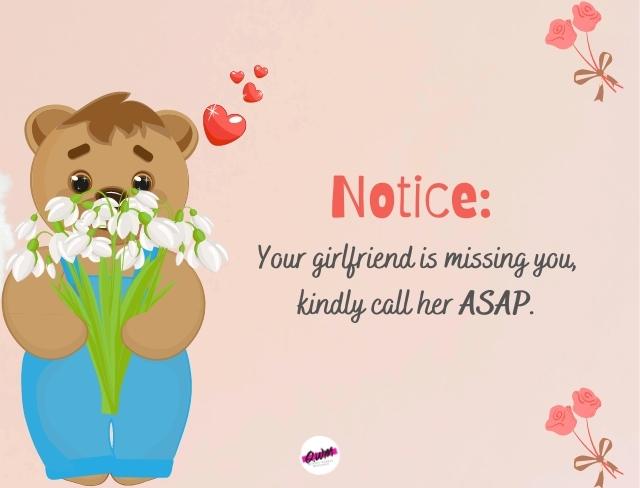 People may think of you as a beast, but for me, you are a mouth-watering feast.
You made me realize my true worth, and I appreciate you for that.
Hopefully, I'll meet you in my dreams tonight 'cause I've been staring at our photos for a while now!
Also see: Romantic Heart Touching Love Messages
I don't know what kind of training you need to perform a backflip, but my heart has been doing it since the day I met you.
I'm so glad I have a best friend like you. Seriously, you have no idea how comfortable and safe I feel around you.
I love you more than I have ever loved anyone in my entire life.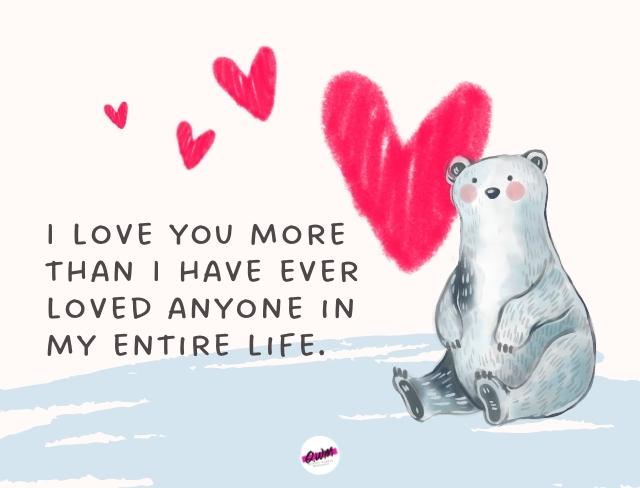 Ten things I hate about you:
1. Nothing.

I love everything about you, dummy!
Also see: Romantic One Liner Love Quotes
You have filled that blank space that was in my heart for years. So, thank you.
I can't play tug-of-war with you because I'll keep falling for you over and over again.
I wish for many things, but for now, all I want to do is lie in your arms.
We may be getting older, but you will never stop giving me those butterflies in my tummy.
And the award for the most valuable person in my life goes to: YOU!
Offer Alert: Give me a hug, and you get a kiss for free!
Going to send Netflix our love story because it's a blockbuster already!
I love you so much that I can't imagine my future without you.
Also see: Deep Aesthetic Love Quotes
Just remember that everything you achieve, you deserve it 100 times over.
Just set my alarm tone as your morning voice, and now I keep hitting snooze over and over again.
Every day you continue to impress me.
I have nothing to talk about but still texted you. How's my boo doing?
It's a secret, so don't tell anyone: You are my happy place!
Also see: Cheesy Love Quotes
I don't know about the multiverse, but I will love you in each of them.
I'm not a Lord of the Rings fan, but I know you are my precious.
Thanks for always being there for me because I know I can be a baby sometimes.
The way you work, I'm so inspired by you. Keep it up, baby!
I wish I could express to you how much you mean to me. But there are not enough words in the English language to do that.
Even after 10 years, I feel I'll be blushing while seeing your texts.
Dear Universe, thank you for this fantastic boyfriend, who keeps his calm while handling my rants all day long.
I don't know if I deserve you or not, but you deserve everything in the world, my love!
Love is something that everyone wants to give and receive. However, men feel most loved by the women in their lives when they freely express their appreciation, esteem, and love. And believe it or not, despite trying to appear tough, most men prefer being spoiled and pampered by their girlfriends.
No matter how not mushy your boyfriend pretends to be, texts like these can make him feel oh-so-loved even if you are both living miles apart. It will not only remind him how lucky he is to have someone like you by his side but also gradually strengthen your bond.
---
Author Bio:
Sowjanya is an expert blogger who writes in-depth articles about a wide range of topics, such as Relationships, lifestyle, beauty, health, wellness, etc. She is a regular contributor to StyleCraze.com and some other websites. You can reach her on LinkedIn.
You May Also Like: